What makes diversity meaningful at Owens Corning?
At Owens Corning, we understand that the ability to access great talent, having outstanding role models, and being comfortable with who we are is an important part of making diversity meaningful in our workplace. Our success is driven by our ability to attract and retain the most talented and high-performing employees available globally. To achieve that objective, Owens Corning is committed to being a company where opportunity for professional growth and success is determined by each employee's performance, regardless of personal attributes or other individual differences. For that to be a reality, each employee must be free to bring their complete self to work knowing that they will have an equal opportunity to reach their full potential with our company. Quite simply, we provide an environment where the most outstanding talent in the world feels welcomed, respected and valued for their contributions. Such an environment will facilitate otherwise unattainable business results and competitive advantage by leveraging the power of diverse experiences and perspectives.
Employee Testimonial
"Owens Corning has kept diversity and inclusion in the forefront of my mind and has held discussions to encourage this type of thinking. During my expat assignment to Brussels Belgium, I felt very much supported and included. The Brussels office was a blending of people from many cultures, countries, and backgrounds, but we were all able to share the same values reinforced by Owens Corning's commitment to driving this inclusive environment."
- Kaitlyn Lubrano, Internal Auditor & FALP Analyst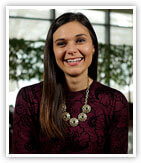 Meet Kaitlyn
Our Affinity Groups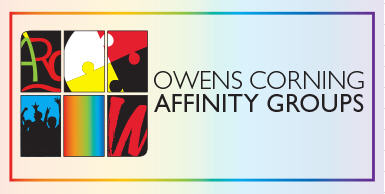 We have five affinity groups that support the efforts of "Building Tomorrow's Leaders Today" via activities that drive employee engagement, deliver business impact and foster internal and external community connections. These groups, and their purpose, include:
• African American Resource Group – AARG

Advance excellence through attracting, acclimating, retaining, and accelerating career growth, thus enhancing Owens Corning's business performance while leveraging the strength of a diverse workforce.

• Gay, Lesbian, Bisexual, Transgender & Advocates – GLBTA

Our vision is to achieve a work environment that is inclusive and safe, where people feel they can be fully engaged to create and problem-solve to their maximum potential and to be confident in a work environment where they will be fairly evaluated.

• Owens Corning Multi-Cultural Network – OCMN

OCMN's purpose is to fundamentally enhance the ability of the people within Owens Corning to understand, embrace, and leverage the multicultural differences that exist across our global organization.

• Women's Information Network – WIN

WIN is a group of highly engaged, dedicated, and compassionate professionals who are committed to attracting, retaining, and developing outstanding women through professional development, personal development and community involvement.

• Connections

Connections enriches the lives of our employees by partnering with those in career transition, while fostering personal and professional growth and promoting community involvement in order to attract and retain top talent.
Today, Owens Corning is a diverse community of dedicated and highly talented professionals. We draw upon the unique backgrounds and experiences of our employees to fulfill our company purpose
– Delivering Solutions, Transforming Markets and Enhancing Lives.
Diversity at Owens Corning
"4 Pillars"
Leadership Vision

Leadership Vision - create a global team environment worthy of our company and enhancing the lives of our people.

Diversity

Diversity Connections - drive awareness and build a sense of community and inclusion which benefits our employees, customers, suppliers, community and shareholders and develops our corporate reputation.

Workforce

Workforce Representation – attract and retain a workforce that enables us to better meet our customers needs and market trends.

Recognition

Recognition - leverage opportunities that lead to increased recognition of our diversity results.